What  results can be achieved with PDO lifting threads ?
Results are immediate. However due to swelling right after placement of lifting threads, a more optimal results can be seen a few weeks after. Although individual results may vary, common results achieved include:
• higher cheekbone contour
• Exotic, cat eye or fox eye, brow lift
• Snatched, defined jaw line
• Softer smile lines
• Softer or more arched eyebrows
• Smoother neck lines
Are PDO threads safe?
MINT™ threads are made from a complex sugar polydioxanone or PDO – a safe suture material that has been used in orthopedic and cardiovascular surgeries for over 30 years. Not only that, MINT™ is also backed by more than 6 years of published studies for its  safety and is the first and only PDO suture in the US market to have received dual FDA clearances.
How long does the procedure take?
The procedure takes an average of one hour but can take anywhere between 45 minutes to 90 minutes. Patients will see immediate results after the procedure that can last up to 1 year. We recommend patients to consult with their providers prior to the procedure day to discuss the look they desire and the results they can expect.
Can threads stimulate collagen?
Smooth threads does not have much of a lifting effect compared to cutting and/or molded threads. As the smooth threads get reabsorbed in the skin, they stimulate collagen, elastin and hyaluronic acid which provides a tightening effect.
Picture taken before and after 1 month threads were placed by Dr. Asirot on the cheeks/midface to soften the nasolabial folds.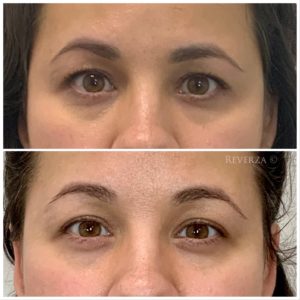 Picture taken before and after 1 month threads were placed by Dr. Asirot to raise the mid-lateral eyebrows (patient preference). Noticed that the eyelids were lifted too. 
Recent Posts
Archives
Categories